All Solo Saws Carry a 2-Year Homeowner & Commercial Warranty.
Solo Chain Saws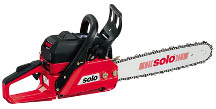 Solo 650 Chain Saw w/ 18" Bar
The 650-18 is a 51cc, .325" semi-pro chain saw with an 18" bar.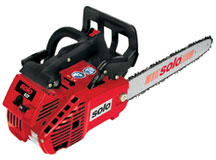 637 Top Handle Chain Saw
20.2cc Top Handle 14" Saw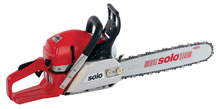 656 Chain Saw
56cc .325" or 3/8" Saw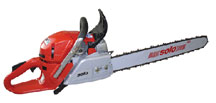 665 Pro Chain Saw
66cc 3/8" Pro Chain Saw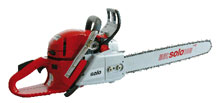 681 Pro Chain Saw
81cc 3/8" Pro Chain Saw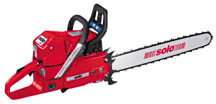 694 Pro Chain Saw w/ 24" Bar
90cc, 24" Bar, Pro Chain Saw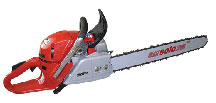 675 ProChain Saw
75cc 3/8" Pro Chain Saw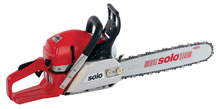 656 Chain Saw w/ 20" Bar
56cc .325" or 3/8" Chain Saw

635 Lo-Pro Chain Saw
36.3cc Lo-Pro Chain Saw
Overview of Solo Chain Saws
The CPSC has established four criteria for chain saws sold in the USA
Narrow radius bar
Safety chain
Chain Brake
Tip guard on the bar
Chain saws under 3.8 cu. in. displacement have to meet at least two of these four criteria for sale in the USA Solo saws meet three
Narrow radius bar
Inertia chain brake
Safety Chain
The chain catcher and full back handle wrap design protect the hand from a thrown chain The tip guard reduces by 50% the size of tree that can be cut with the saw
Vertical cylinder design with out-front muffler directs heat, noise, and smoke away from the operator
Well balanced for easier maneuverability
Easy access to the air filter, starter, sprocket, and engine reduces down time and maintenance costs
Choke/Half throttle makes starting easier
Easy access to the stop switch
Ekomatic chain oiler, metal gear driven oiler lubes the bar only when the sprocket is turning and conserves bar lube
Adjustable oiler on the 645 model and up
Anti-Vibe isolates engine vibration from the handle
Two (2) Year Commercial warranty vs. One (1) Year or less from other manufacturers
Two (2) Year Rental warranty, on select models, vs. 90 days or less from other MFG's
Solo German engineered & produced High performance engines for fast cutting and longer life
Nikasil® cylinder coating for extended engine life
Four transfer ports in the cylinder develop more power and burn cleaner than dual port designs used by other manufacturers
Full crankshaft for added strength and durability, No half crankshafts
One piece connecting rod that can't loosen over time
Ball-bearings on the crankshaft, not bushings, for durability and extended engine life
Two counter-balance weights on the crankshaft to reduce engine vibration
Easy starting primer-purge carburetor & Solid-state ignition
Anti-vibration system, reduces operator fatigue
Easy serviceability, reduces maintenance cost
Dealer has full warranty decision capability which means no waiting for "Factory Authorization"
Toll free Factory technical services hotline
Technology that incorporates endurance and maneuverability.
Dependable Solo high-performance engines
Solo "easy-start" primer system
Maintenance free ignition system insure the long life of these chain saws.