The World's First All-Electric Zero-Turn Riding Mower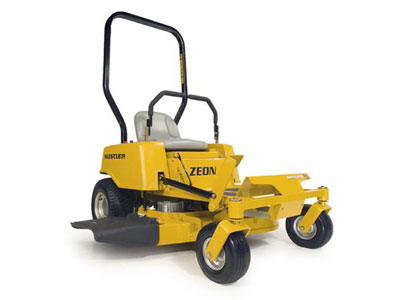 Hustler Product Page
Another World's First from Hustler Turf Equipment
The Zeon™ is the result of groundbreaking innovation and precision engineering. It delivers a beautiful cut with it's welded deck, and the neighbors will be amazed at how quiet it is. No emissions, no gasoline, no oil, no belts, no plugs, no pulleys... No joke.
Zeon Features
Up to 80 minutes of mowing time - enough to mow over 1 acre!
Green friendly - zero emissions
Nearly zero maintenance - just plug and mow!
Clean and neat - no belts, filters, fluids, etc.
No engine noise - much quieter than gasoline-powered equipment!
Compact design - mow in tighter spaces to increase productivity
Very inexpensive to operate - electricity is cheaper and prices fluctuate less
High blade-tip speed for beautiful quality of cut!
Welded steel deck and tubular frame. NOT STAMPED!
18" drive tires, 11" caster tires
Dual electric transmissions for true zero-degree turning maneuverability
SmoothTrak™ steering with patented automatic park brake system
42" side-discharge/mulching deck
34% noise reduction to comparable gas powered mowers!
Zeon Machine Warranty
Residential: 3-year parts & labor
Commercial: 1-Year parts & labor
Zeon Configurations
Dimensions
Overall Length - 69"
Overall Width - 54"
Overall Width with chute up - 44"
Tire-to-Tire, Front-back - 45"
Tire-to-Tire, Width- 41"
Height - 44.5" w/o ROPS
Height - 72" w/ ROPS
Weight - 783 lbs w/o ROPS - 814 lbs w/ ROPS
Engine Specs
Model: Hydro-Gear, 48 volts with 82 ft lbs of maximum torque
Accessories
2-Bag Catcher
Mulch Kit
Light Kit
Quick Charger
Steering Extension