TrimStar Hydro Walk-Behind
Finally, Something New in Walkbehinds Mowers!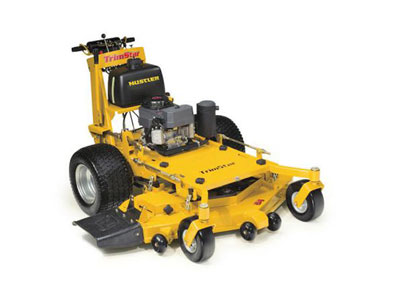 Downloads
TrimStar Hydro Features
Patented H-BarTM Plus steering system - the easiest to learn, easiest-to-use walk-behind steering system. The mower glides over the lawn effortlessly! Now with cruise control!
5 gallon fuel tank with sight-line
Optional electric start 54"
No daily lube points!
36", 48", or 54" full-floating decks
15 hp, 17 hp, 19 hp, & 23 hp Kawasaki air-cooled gasoline engines
Superior drive system - integrated, serviceable ZT2800 transmissions. No hoses or leaks!
Hydro Walk-behinds are a safer way to maintain steep slopes. The TrimStarTM features a wide stance for excellent stability on slopes.
Best blade-spindle design in the industry!
Warranty
Lifetime warranty on the leading edge of the deck
Limited two-year warranty-parts and labor
3 years on blade-spindle bearings
3 years on front-caster-fork bearings
TrimStar Configurations
Kawasaki
16HP

Kawasaki 16 hp FS Engine
36" Side Discharge (930388)

18HP

Kawasaki 18 hp FS Engine
48" Side Discharge (930396)

20HP

Kawasaki 20 hp FS Engine
54" Side Discharge (930404)

24HP

Kawasaki 24 hp FS Engine
Electric Start
54" Side Discharge (930412)
Accessories
Deck Mounted Catcher
Mulch Kit
Roll-On Striping Sulky (Not for 36" model)
Hustler M-1 Walk-Behind
A Trim Mower Built Hustler Tough!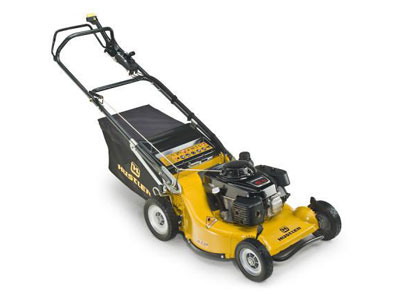 Downloads
M-1 Features
5.5 hp Honda commercial-grade OHV 4-stroke engine
Shaft Drive – 2nd PTO shaft to power gear drive (no belts)
Twin blade mulching system
Heavy-duty, yet light-weight, cast-aluminum deck
Heavy-duty, reinforced, 1"-diameter handles
7 cutting heights: 7/8" to 3.25"
Heavy-duty, aluminum wheels with ball-bearing hubs
Extra-large discharge opening allows better flow and distribution of grass clippings to improve mowing efficiency and finished appearance
High-capacity, 2.7 cu ft grass bag is easy-on, easy-off
Blade Brake Clutch – stops blade, not engine
21" mulch/catcher
Front Bumper and Edge Guards to protect deck
Warranty
1-year limited commercial warranty!
2-year limited engine warranty!
M-1 Configuration
Honda
5.5HP

Honda 5.5hp OHV Engine
21" Mulch/Catch Deck (929208)